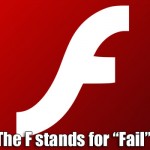 For a while now Flash player for Firefox is upmixing stereo sound to all device channels. So if you happen to have a multichannel sound device (let's say 5.1 HDMI audio connection to A/V receiver), you are in for a surprise remix of your favorite videos.
I've been quite annoyed by this "feature" of our beloved Adobe for a while now.There is no way to alter this behavior, and the upmixing itself is done badly. Today I found a solution posted on Superuser StackExchange by user e-t172. And it works!
He was in contact with Adobe but they closed his bug report with "working as intended". It seems they thought it's a great idea to ruin perfectly good stereo Youtube clips. Probably by a guy owning a set of multichannel PC speakers… Anyways, e-t172 fixed it himself.
The result is StopBraindeadSurround (open source, WTFPL license).
To install, just copy audioses.dll into your Flash player directory (typically C:\Windows\SysWOW64\Macromed\Flash if you're using 64-bit Windows). You might need to copy it again after Flash Player updates.
See complete instructions in README.txt.
Thanks e-t172, great stuff!